Vegetarian and Vegan Options at Your Neighborhood Michigan City Restaurant
You asked and we answered!
We have added vegan and vegetarian options to our menu here at Leeds in Michigan City.
Our Buddha Bowl features a sweet pea ancient grain medley, roasted seasonal vegetables, fresh avocado, garbanzo beans and toasted pumpkin seeds.
Our Hummus Veggie Wrap rolls up house-made hummus, spinach and seasonal veggies that are sprinkled with EVOO and lemon juice, all in a chipotle tortilla.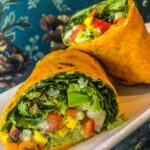 You can beef either of these dishes up with meat by adding chicken or shrimp.
Check out our full menu.
As your Michigan City community spot, we strive to source local and fresh ingredients from our Northwest Indiana corner of the world and serve them up in unique dishes with bursts of flavor.
See you soon!