The Leeds Public House team is strengthening its community-centered initiative to further support nonprofits.
Leeds Project Heart will continue to spotlight region organizations and their mission and goals. Going forward, the fundraising component will center on proceeds from its monthly Libations for Donations, allowing for further opportunities to financially support the nonprofit.
"We had been celebrating our featured nonprofits through just one day a month. Now, we feel it is important to expand our initiative as nonprofits face just as many obstacles – if not more – than our region small businesses during these challenging times," said Leeds Public House owner Denise Burns. "We will mix up a special cocktail that will be available all m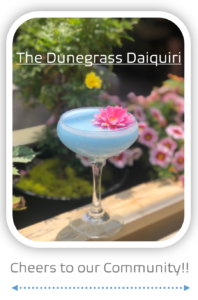 onth long and 50% of the proceeds will be donated to our spotlighted nonprofit."
Throughout July, a tiki-inspired drink will support Save the Dunes. The Dunegrass Daiquiri is made with 18th Street Distillery rum, house-made lemongrass syrup, lime juice and spirulina-coconut cream.
The organization remains focused on protecting, preserving and restoring the Indiana Dunes and natural resources in the region.
"Our primary focus right now is restoring pollinator habitat, keeping our beaches and trails free from litter and encouraging park visitors to recreate responsibly – that is to leave only footprints and take only memories," said Myra Cseke, director of development at Save the Dunes.
"We want our community to know that in these uncertain times, that they can count on Save the Dunes to collaborate and search for science-based solutions as we move forward together to determine how we can honor the lands and waters we love, our people and our economic vitality."
Leeds is always looking for new nonprofits to spotlight through its monthly Leeds Project Heart. To become a part of the community-focused initiative, contact Leeds General Manager Dave Roberts at 219-814-4530 or droberts@leedspublichouse.com.