Thank you to all of our guests who celebrated with us during our one-year anniversary Customer Appreciation Week!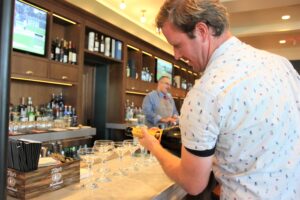 For the past year, our team has enjoyed serving our guests all of our special dishes and cocktails. We truly love being a special place to gather, laugh and mark special occasions.
We broke out another salmanazar – an oversize bottle – from Chateau Drappier to mark our official birthday as we did on our grand opening event! Our Drew Doyle is seen on both occasions!
We are looking forward to many more years here in Michigan City. We strive to be a neighborhood beacon that enlivens our historic downtown with an eclectic vibe and vigorous community spirit.
See you soon!!